Anonymous

Posted From: 64.124.120.31


Rating: N/A
Votes: 0 (Vote!)
| | |
| --- | --- |
| Posted on Thursday, April 14, 2005 - 06:28 pm: | |
---
I will give you fair warning, I would not try to cross railroads in a MAX.

I was driving a siding road next to the RR and we came to and end to the road at a TUNNEL!!, it continued on the other side of the tracks, and so we surveyed the tracks and it appeared that getting across should be no problem, we couldn't see the end of the tunnel as it went around a curve. We listen closely for a train, and it all sounded good.

So I quickly approached the tracks , got one tire over, and then had to goose a bit to get the second, this made the third even harder. When the third tire came across , much to my horror, the wheel base of the max is almost exactly the width of the tracks. I was caught between, them, couldn't back up or go forward to get a little bounce to get over the track in front.

Frantically 3 other people with me , who were not in tha max when I tried to make it over, pushed and lifted and while one sat in it and gunned it. It finally lifted out and went shooting towards the edge of a long drop. Luckily I had just taught the girl that morning how to drive, and she knew how to make a quick turn to avoid going over.

We spent 5-10 minutes recovering from the scary situation, when we heard a train coming through the tunnel.

It could have been very bad in more that one way.

The moral is , they are not invincible, and you need to be very very careful. And you are talking to someone who is normally very cautious especially when it come to trains. I still shudder to think about it.







Argohunter
New member
Username: Argohunter

Post Number: 9
Registered: 02-2005
Posted From: 205.188.116.13


Rating: N/A
Votes: 0 (Vote!)
| | |
| --- | --- |
| Posted on Wednesday, April 20, 2005 - 12:03 am: | |
---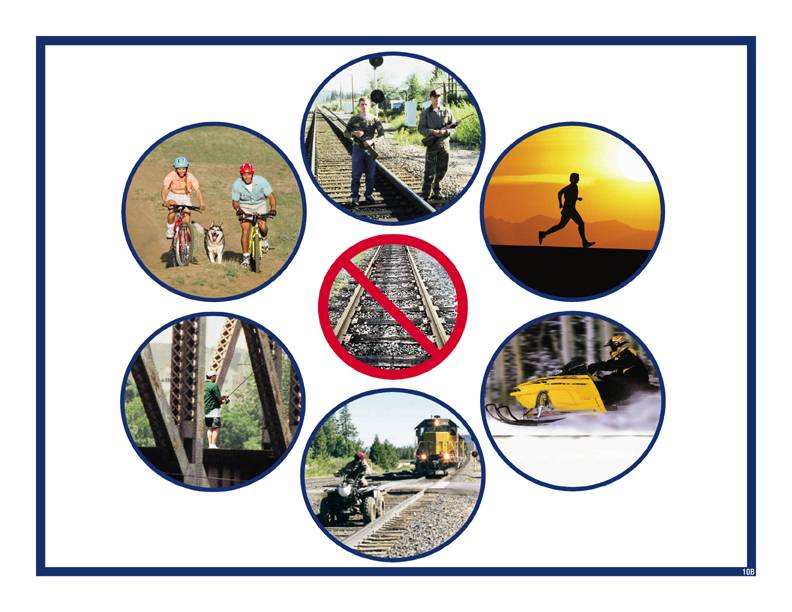 Picture Credits: Operation Lifesaver Inc.

Trespassing on railroad property including the tracks is illegal in all states.